Sailing from one thriving small port to another
Wednesday, November 9, 2022 - 11:58
This article is based on project interviews published in the project database and was written by the Finnish national Contact Point, Safira Schubak.
More information about Improved services in small ports can be found in the related >> RESULT PACKAGE << that summarises the Specific Objective.
On the Island of Rödhamn, in South-Western Åland, the positive effects of the Smart Marina projects can be seen and felt in the port's day to day life. Before Smart Marina, there was no warm water, drainage nor electricity in the guest harbour. And although some sailors enjoyed the modesty from before, the majority of guests have greatly appreciated the updates, tells Anette Gustafson, the manager of the guest harbour and its café.
"Many people today seek more comfort and so improvements like these are necessary in order to survive", summarises Brage Jansson, the operating manager of Åland Sailing Society, that also operates the Rödhamn port. According to him, Smart Marina has enabled even the smallest of ports to make necessary changes they could not have managed to implement without the funding and shared knowledge provided by the project.
Sharing both success and knowledge
Also Minna Keinänen-Toivola, project manager for PortMate, highlights the importance of knowledge sharing for successful project implementation. Only through knowledge sharing and benchmarking can you learn how to do things differently or better and it is also a very cost effective way of doing so.
The results of PortMate are very impressive: in less than three years, 38 official safety videos were made and almost one million euros (1/3 of the total budget) was invested in sustainable and resource efficient solutions in small ports.
The recipe for success, according to Keinänen-Toivola was teamwork, energetic attitudes and a real desire to develop the small ports of the Central Baltic Sea region in a safer, more ecological and resource-efficient direction.
Results that live on
"We have always been sailing to each other in the Central Baltic region", Jonas Davidson from SmartPort points out. And his colleague Jaano Martin is delighted by the fact that their work will leave behind an improved network of small harbours.
"Seeing something that really makes a difference and that will last for a long time makes my job feel meaningful", says Brage Jansson.
Besides the physical network of improved small ports, the networks of people behind these projects will continue to exist – creating more innovations and improvements that positively impact the lives of the people in our regions in very concrete ways.
Projects in this article: Smart Marina, SmartPorts, PortMate
Result packages: View all result packages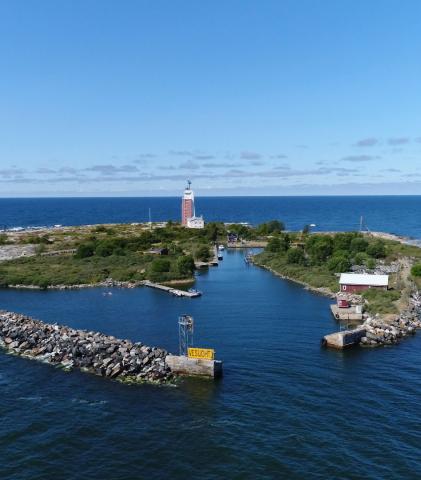 Project PortMate imporved services in 19 small ports. These included, for example, desalination systems, led lighting and waste water piping. The project also produced videos and guidance on port safety solutions as well as information on resource effi ciency. Photo: Kristiina Kortelainen.