What is happening in Priority 1
What is happening in Priority 1
Focus on business: autumn activities of Priority 1
As an IVY volunteer, discovering what Central Baltic projects have been up to is the most interesting part of my work. Figures are extremely useful – and have a certain impact on me as a reader– but getting to know projects' activities in the details provides a wide picture of the situation and shows what has been built with the support of ERDF. In fact, learning how the project partners are managing to reach their objectives and what they have obtained, shines a light on both Central Baltic regions' dynamics and cohesion beyond internal borders.
Priority 1 is a good example of what can be done with the support of ERDF
If you start from the numbers, you'll have to admit they are rather impressive. Since its beginning, the Central Baltic programme has approved and sustained 16 projects in its business-focused Priority 1, where almost 19 million euros ERDF have been already allocated. 19 million is a large amount and it also suggests how much effort the programme is putting in the development of a competitive economy for central Baltic countries.The entire programme has 76 projects with a total allocation of nearly 70 million euros ERDF.
While business and cross-border cooperation stand as common denominators for Priority 1, the projects have different specific objectives, and each of them have their own target group and defined results to reach. These range from offering opportunities to students to opening international markets for knowledge-intensive companies. During the past months, many activities have been carried out by project partners in order to achieve the outcomes they are expecting.
Talking about offering opportunities to youngsters,
RIBS
makes a good example, as it increases entrepreneurial attitudes in young people. In regards to international markets,
CB2East
representatives provide us a confirmation of the effort to tie new commercial relations. And also, Central Baltic's projects are strongly engaged in boosting start-ups, with the help of workshops and seminars, such as the ones recently held by
Springboard
.
To underline the active role of Central Baltic projects, I'm going to have a closer look at the projects mentioned above.
RIBS - Working with youngsters
While each project has its own features, at the same time they all have a strong connection to the local dimension. The cross-border feeling of sharing the same territory and of belonging there is particularly evident in the RIBS project, which, from my point of view, is especially interesting because of its specific target group.
RIBS is based in Sweden, Åland, Finland and Estonia and engages young people from the archipelagos and rural areas. With several meetings it organised to develop entrepreneurial attitudes in youngsters, it is a perfect target for tracing the achievements made by Prio 1 projects in the latest months.
As it is seen on RIBS's media channels, the weeks that came after summer have been busy ones. Through making young people's business ideas become true, the project aims at creating multi-national companies, showing at the same time the existence of new job possibilities for the future, without the need of leaving homeland islands and rural towns.
To gain this result, RIBS has been active in September, supporting the filming of a short movie by young local artists, helped by young local companies as well, on the island of Üto, and then organizing a specific seminar and workshop in Fårö. Also, teenagers from Åland have had the chance to be more informed about creative opportunities linked to new technologies. As it is reported, they talked with the project's members about what they could create with the help of 3D printers, drones and programming, for example, and they have had the possibility to attend a more detailed camp during a weekend. The success of one of the short movies RIBS helped to create can be seen in a regional prize won by the participants of its "World Film Cole Lab", who will attend now a national contest in Sweden.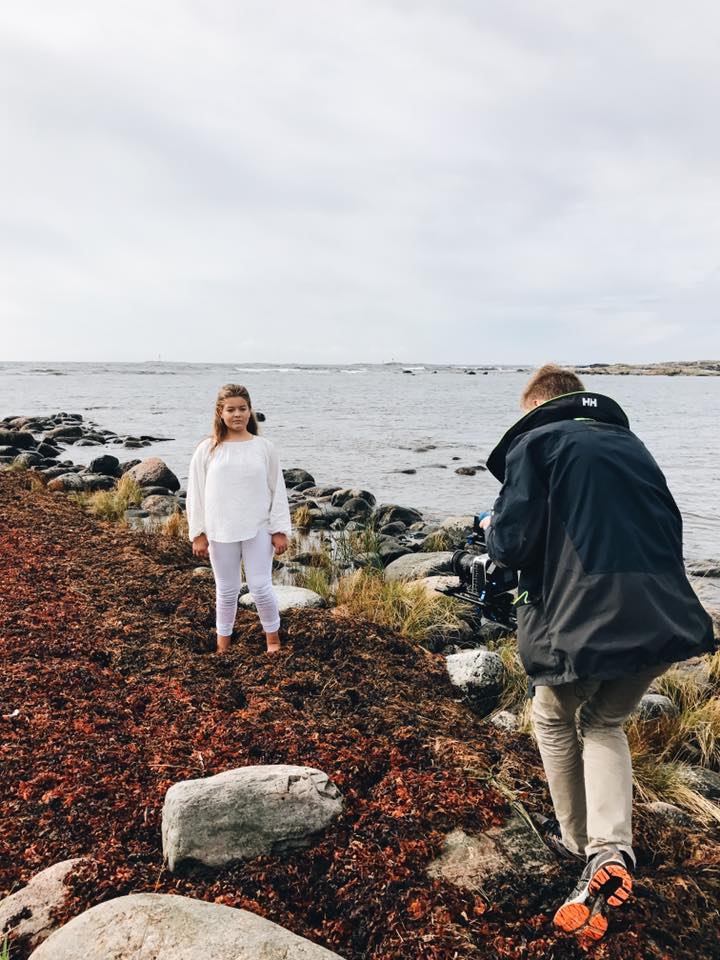 Ribs works with youngsters: here you can see young artists filming on Üto (pics 1 and 2) and participants in its camp on Fårö (photos from Ribs's facebook page)
The BELT project works with start-ups
Besides the support to students and young people, the commitment to help and develop start-ups is another remarkable common feature in Prio 1 projects. Many of the projects have been very active in the past months, and I've chosen to focus on BELT – Baltic Entrepreneurship Laboratories – that recently showed us the results of its latest bootcamp.
With project partners located in Sweden, Finland and Latvia, BELT is centered around the creation of joint cross-border companies between "smart cities-oriented" start-ups. To achieve this result, the project has planned a series of bootcamps to coach start-uppers and make them meet in order to establish a concrete cooperation. What happened in September is a useful feedback of the process that leads to the projects' objectives.
As BELT reported, in September its third bootcamp for start-uppers took place, after a selection process for the applicants. Over 50 start-ups met in Norrköping, Sweden, for a three-day experience that involved seminars and training. The event ended with the creation of 12 new joint companies that underlined and strengthened at the same time the cohesion between central Baltic nations.
The beginning of Autumn brought to BELT also a proof of a productive work, as one of its previous participants (Memocate) received a nomination as "most innovative solution in Health & Well-Being from Finland" at the innovation-focused World Summit Awards.
Reaching far markets with SME2GO
International contests are not the only way for Central Baltic companies to reach a worldwide level; many projects are aimed at supporting local economy by entering new markets abroad.
One of them is SME2GO and caught my attention because of past – and upcoming- events.
SME2GO's main focus is on companies that specialise in smart cities, involved in training and seminars to meet each other and face together new potential markets as Asia, Africa and South America. Through this, clever and sustainable solutions for their metropolitan areas are produced.
To help Central Baltic companies reach those far markets, the project has lately supported the organisation of relevant conferences, such as the 2017 China Europe Water Platform Annual High Level Dialogue Conference, that took place in Turku, or the Make in India forum in Stockholm.
Through the project's presence at both the events, local companies can find a channel to start their commercial relations with eastern countries and at the same time SME2GO hopes to enhance a strong cooperation between Baltic companies, resulting in a proper "smart city" cluster.
There's more than meets the eye
SME2GO, as BELT and RIBS as well, is just an example of what is going on among the 16 Priority 1 projects but it is useful to get a glimpse of a more complex reality.
Even in a few lines, it is possible to discover that Central Baltic programme's projects are actually building something concrete that has an impact on people's life. Being informed on what's happening is the first way to understand the important role that the European Territorial Cooperation plays in regards to the territory.